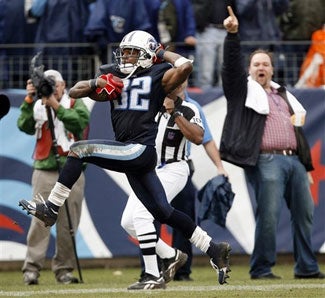 This is Pac Man Jones. He won't be taking part in any NFL games this year, which makes him similar to you, or us, or popular musician C.C. DeVille. He will be able to watch, though, and as of this afternoon, he knows when he'll be able to watch which games. That's right: As you might have noticed from the two freaking hours of coverage on ESPN today, the NFL schedule was released today. Some highlights:
• September 10: Buzzsaw at 49ers. With a 10:15 ET start, we guarantee you we will be the only people on the East Coast staying for the end of this.
• September 30: Texans at ColtsFalcons. Schaub. Mexico. MEXICO! SCHAUB!
• November 4: Patriots at Colts. Here we go again. We'll find this more fun if Tom Brady pegs children with passes.
• November 26: Dolphins at Steelers. Joey Porter returns, hopefully escorted by his dogs and Levi Jones.
• December 30: Lions at Packers. Brett Favre's last home game. Totally.
NFL 2007 Schedule [NFL.com]