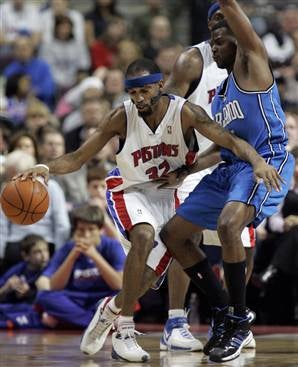 Notes on Wednesday's games in the National Basketball Association ...
• No Grant Hill, You Shall Not Steal The Pistons' Thunder. Grant Hill scored 18 points in the first half but was held to four in the second, as Detroit locked up home court advantage in the East with a 104-99 win over Orlando on Wednesday. Hill's 22 points was the most he has scored against Detroit since leaving there in 2000. It was the Pistons' fifth Central Division title in six years. Billups led the Pistons with 28 points and Richard Hamilton had 21. The Magic lead Indiana by one game in the race for the final playoff spot. Meanwhile, until the playoffs start, we're going to watch this video over and over until we overdose on cute. (Thanks, Mighty MJD).
• Rocky Mountain High. Wow, this AI trade thing just may work out after all. The Nuggets won their seven straight, 115-106 over the Jazz, to remain unbeaten in April. Allen Iverson had 22 points and 12 assists, and Carmelo Anthony had 32 points for Denver.
• It's Hard To Find A Word That Rhymes With Sixty. Tim Duncan's 26 points led San Antonio to a 109-100 win over Sacramento, improving the Spurs' record to 57-21 with four games left in the regular season. They've won five straight and 11 of 12, and are a league-best 22-3 since the All-Star Game.