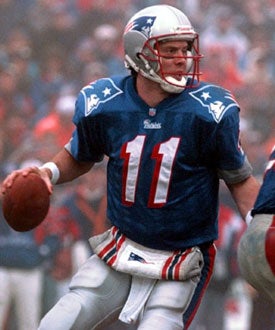 So not to be a big freaking cliche or anything — "My Gosh, the inexorable forward march of time sure does strike me, as someone in my mid-twenties/early-thirties, as something that is unique and particular only to me!" — but seriously, though: The fact that Drew Bledsoe retired yesterday legitimately does make us feel pretty old.
"I'm not leaving the game with any hard feelings," he said. "I had a great career and I enjoyed all of it, with the exception of losing. I enjoyed the time I had with all the teams I played for. I played with a ton of great players and a ton of great people.
Bledsoe was drafted in 1993 and ultimately lost his respective starting jobs to Tom Brady, J.P. Losman and Tony Romo. One could argue that Bledsoe was the fourth or fifth best quarterback of the nineties, for whatever that's worth. We wonder how much mental space Bledsoe will take up in our Fan Historical Databases in, say, 10 years. We're probably just gonna wait for the inevitable Simmons column later this afternoon, which should explain it to us.
Canton On My Mind [Chicks Dig The Long Ball]