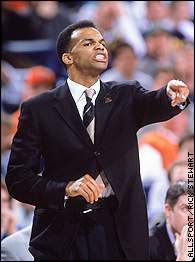 You know, it seems strange to think about now, but when Tommy Amaker was initially hired by Michigan, many people thought it was just the move to bring the Wolverines back to national prominence. We know now that it was exactly the move to turn the team into the NIT Terrorizing Force that it has become, which is why Amaker, in the span of five years, has gone from Seton Hall, to Michigan, to ... Harvard.
Yep, Amaker — by all accounts a classy and upstanding fellow — is the new coach at Harvard, an intriguing career move but on that will be kind of fun to watch. (At least we know whom to pick in our NIT pools next year!) Amaker replaces Frank Sullivan, who coached the Crimson for 16 years and never finished higher than second place in the Ivy League, which would seem difficult to do.
Anyway, we have to say, we're beginning to find it more fun to watch coaches go down the food chain rather than up. There is far more joy in watching Amaker try to resurrect a Harvard team than, say, looking at Bob Huggins' yearly sleazy desperate job grasp. Go Crimson!
Harvard: Michigan Of East [The Realests]