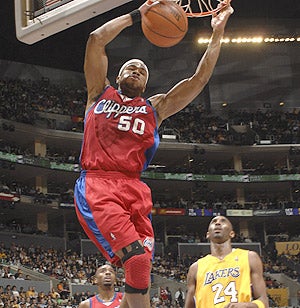 Notes on Thursday's games in the National Basketball Association ...
• LA Story. With the kind of year that Kobe Bryant is having, and with the money they're paying Phil Jackson, could the Lakers actually miss the playoffs? We wouldn't panic if we were Jack Nichiolson, but the Lakers are only 1 games ahead of the Clippers and Warriors in that battle for the final two playoff spots in the West. Corey Maggette scored a career-high 39 points and Elton Brand had 32 points for the Clippers (38-40), to offset Bryant's 50-point effort (his ninth of the season scoring 50 or more) as the Clips won 118-110.
• Cavs Cancel Travel Plans. LeBron James scored 35 points in 36 minutes, as Cleveland secured home-court advantage for the first round of the playoffs with a 94-76 win over the Nets. Cleveland is tied with idle Chicago for the No. 2 seed in the Eastern Conference. The Cavs have three games left.