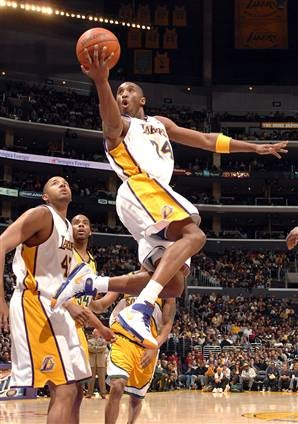 Notes from Sunday's games in the National Basketball Association ...
• Nicholson Suicide Watch Is Over. The Lakers are in the playoffs. It took 50 points from Kobe Bryant to do it, as Los Angeles beat Seattle 109-98. LA has still lost seven of its past 11.The Lakers have one regular-season game remaining, at Sacramento on Wednesday night, and will finish seventh or eighth in the Western Conference. That means they will face either Dallas or Phoenix in the first round. (Cough).
• Maybe Duncan Can Challenge Him To A Foot Race. That's what we like to see; people getting ejected from a totally meaningless game. San Antonio is already the No. 3 seed in the West, and Dallas is No. 1. Yet this one was an elbow-fest, with Tim Duncan getting two technicals — one for laughing on the bench — as the Mavericks prevailed 91-86. Dirk Nowitzki and Devin Harris each scored 21 points for Dallas, which got win No. 66 (ninth-best in league history). Tony Parker led San Antonio with 23 points, and Duncan had 16 points before being ejected. "He (referee Joey Crawford) looked at me and said, 'Do you want to fight? Do you want to fight?' " Duncan said to the Dallas Morning News. "I didn't say anything to him. If he wants to fight, we can fight. I don't have any problem with him, but we can do it if he wants to."
• Warriors Inch Ahead. Jason Richardson's 32 points and 12 rebounds led the Warriors to perhaps their most significant win since Chris Mullin was playing for them, rather than general managing, as he's doing now. With its 121-108 win over the Timberwolves, Golden State moved a game ahead of the Clippers in the race for the eighth and final playoff spot in the West. The Clippers lost to Sacramento 105-100. Golden State has not been in the playoffs for 12 years. Two games remaining for each, folks.
• A Magic Evening. The Orlando Magic will be in the playoffs. Sunday's 88-86 win over Boston saw to that, as Hedo Turkoglu led the Magic with 20 points.