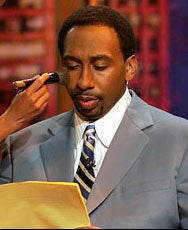 So you know how "Cold Pizza" is changing its name to "ESPN First Take" and moving from New York City to Bristol next month? You didn't know this? What's that you say? You don't care at all? Yeah. We can probably understand where you're coming from there.
Anyway, when the show "relaunches" May 7 — though it's staying in its oh-so-desirable 10 a.m. ET on ESPN2 time slot — it's going to try something "new." It's going to pit several different "personalities" in the unenviable position of facing off with Skip Bayless in an intellectual death match.
Patrick McEnroe, ESPN's Stephen A. Smith and ESPN.com columnist Jemele Hill will square off against Bayless, and each other, on the new ESPN First Take morning show, says Norby Williamson, ESPN's executive vice president of studio and remote production. Cold Pizza co-hosts Jay Crawford and Dana Jacobson will continue with the show. Bayless, McEnroe, Smith and Hill will headline a rotating group who'll debate during the 1st and 10 segments.

"We tried out a lot of people for the last three months or so," Williamson says. "The goal is to have a group the audience can identify with."
We appreciate what Norby — Norby! — is going for here; Jemele Hill is a new hire who needs to cut her TV teeth somewhere, Patrick McEnroe needs a job and Stephen A., well, they have to find something for him to do. Heck, 10 a.m. on a Tuesday afternoon is about to become can't-miss sports television, we are sure.
ESPN Shooting For Better A.M. Debates [USA Today]