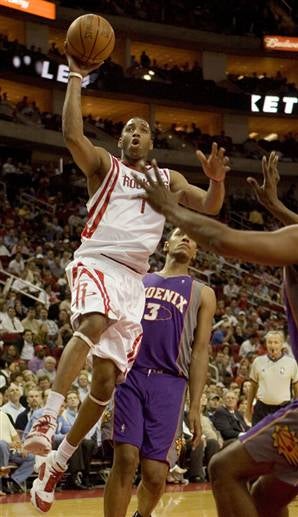 Notes on Monday's games in the National Basketball Association ...
• Rocket Boosters. Yao Ming and Tracy McGrady injury troubles aside, we never could understand why the Rockets aren't up there in the conversation with the Suns, Mavericks and Spurs. Perhaps now they are. Yao is back healthy, and McGrady is playing better than ever; his 39 points leading Houston over Phoenix 120-117 on Monday. Yao had 34 points as the Rockets clinched home court advantage for the first round of the playoffs. Houston will open the playoffs at home against Utah next weekend. Amare Stoudemire scored 30 points for the Suns, who used their starters most of the game even though they had already clinched the No. 2 seed.
• Lincoln Tunnel Series. Are the Nets a playoff factor? Magic Eight Ball sez: Prospects are unclear. Vince Carter had 29 points, 12 rebounds and 10 assists as New Jersey clinched at least the No. 7 seed in the Eastern Conference with a 104-95 win over the Knicks.
• Boozer Time. The Jazz got their act in gear a little too late to wrest first-round home court from the Rockets, beating Portland 130-93 shortly after Houston's win. The Jazz had lost to Phoenix 126-98 on Sunday, earning postgame wrath from team owner Larry Miller. Carlos Boozer led the Jazz with 26 points.
• Other stuff. Oklahoma City SuperSonics? The Seattle SuperSonics have one foot out the door, it seems, after the Washington lawmakers refused to vote on public funding for a proposed $500 million arena in Renton before the Legislature adjourns this weekend. Hopefully they'll work out something before the Key Arena lease runs out in 2010 ... MSNBC's Sam Smith is ready to call the NBA title for the Spurs. Yep. "You haven't heard much about the San Antonio Spurs this season, though you will in a few months when they win their fourth NBA title in the last nine years." Um, even if Joey Crawford is officiating?