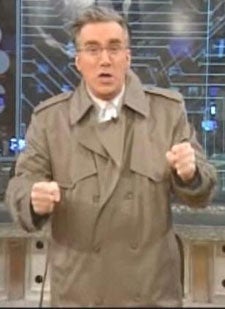 We like MSNBC/ESPN Radio/NBC/whatever talking head Keith Olbermann, and not just because his presence reminds us of those halcyon days of yesteryear when we actually felt cool for watching "SportsCenter." (God, that seems so strange now.)
Anyway, Olbermann's got another gig: He's gonna be on NBC's NFL pregame show this year.
Keith Olbermann will return to sports for the first time in six years to join Cris Collinsworth as co-host of the pregame show for NBC's Sunday night NFL telecasts. Olbermann, who currently hosts a prime-time newscast and opinion show called Countdown with Keith Olbermann on MSNBC, will join with host Bob Costas and analysts Jerome Bettis, Tiki Barber and Peter King on NBC's "Football Night in America."
OK, that highlight show is starting to become awfully crowded, and we anticipate many pissing contest between Costas and Olbermann as to who gets to play the role of "Moral Beacon Of The Sports World." We think Olbermann could probably take him; Costas would win the smug points, but Olbermann's at least a foot taller.
Olbermann To Join NBC Pregame Show [SI.com]