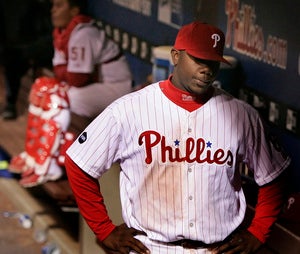 Notes from a day in baseball:
• Charlie Manuel Wants The National League To Get Off His Lawn. Things are spinning gloriously out of control in Philadelphia, where the euphoria surrounding Freddy Garcia's pitching debut quickly turned to manager Charlie Manuel going all Mr. Miyagi after the game. The Phillies are 3-9 (1-5 at home) after Tom Glavine and the Mets administered an 8-1 spanking Tuesday; win No. 293 for Glavine. After the game, Manuel answered charges that he wasn't dynamic enough by offering to punch out a radio host. Yep, makes sense. From AP: The normally mild-mannered manager challenged a radio talk-show host to a fight. Manuel had to be restrained by hitting coach Milt Thompson at one point. "We're going to win," Manuel could be heard yelling in his office. Fortunately, The 700 Level was at the game, and dug a little deeper, reporting that the radio host in question is 610 WIP's Howard Eskin, who to this point was best known for his uncanny resemblance to The Burger King. Following the game, Eskin reportedly asked Manuel "Don't you think it would help your players if they saw you fired up a bit more?" The 64-year-old manager responded by lunging toward Eskin, garnering much the same result as Chase Utley earlier that day (0-for-3, HBP). Honestly, are there any old guys in town who aren't looking for trouble this week? (NBA official and Tim Duncan antagonist Joey Crawford is from nearby West Chester). Nearly lost in the confusion: Moises Alou's two homers and three RBI, and David Wright extending his hitting streak to 24 games, tying the Mets' franchise record.
• His Real First Name Is Sebern, By The Way. It says a lot about the state of the Yankees pitching staff that their starter on Tuesday was wearing this on his hat just 48 hours ago. So hastily was Chase Wright called up from Class-AA Trenton that he didn't even have his own glove for his pitching debut against the Cleveland Indians. He's no Colter Bean just yet (who is?), but Wright still pitched pretty well, going five innings and surrendering five hits with three earned runs in New York's 10-3 win. Alex Rodriguez continues to punish you for not picking him on your fantasy team, by the way, hitting his ML-leading eighth homer.
• Blue Jays Disrespectful To Matsuzaka. Can You See That We Are Serious? Daisuke Matsuzaka fell to 1-2 after forcing in the go-ahead run with a bases-loaded walk to Gregg Zaun in the fourth, Toronto beating the Red Sox 2-1. Despite getting only three hits (Matsuzaka struck out 10). "He didn't command like he can," Red Sox manager Terry Francona said. Still, the honeymoon isn't over: Boston fans are still giving him points simply for not signing with the Yankees.
• Sammy's Back. We don't quite understand the dynamic here; are White Sox fans allowed to boo Sammy Sosa? Apparently so, as the former Cub got a heavy dose of grief in his return to Chicago (albeit the South Side) with the Rangers. Sosa answered of course with a home run (No. 591 of his career) as Texas beat the White Stockings 8-1. Ozzie Guillen intentionally walked Mark Teixeira in the eighth to get to Sosa, who hit his third homer of the year. This prompted Guillen of course to say "I'm not afraid of Sammy Sosa. I'll walk Teixera to pitch to Sosa every day of the year." Ha.
• The Crosby Show. Jered Weaver's 2007 pitching debut was spoiled by Bobby Crosby, who had a three-run homer to lead the Athletics over the Angels 4-1.