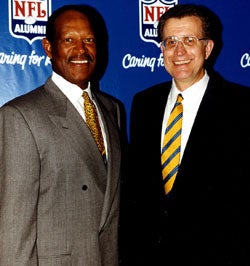 As anyone with even a fundamental understanding of professional sports labor issues knows, the NFL has the weakest players union. NFL players have the shortest careers, make the least money, suffer the harshest long term health effects and rarely have guaranteed contracts. This has caused many — and not just Bryant Gumbel — to question the leadership of union head Gene Upshaw, including many of his fellow retired brethren. But such dissent will not be tolerated.
Several retired players and chapter presidents have started blogs to communicate with their brethren about perceived problems with the pension system and other issues that are affecting former NFLers. In a recent memo, the NFLPA said that any retired chapter found guilty of "conduct detrimental to the union's best interests" may be dissolved.

Bruce Laird, president of the chapter of retired Baltimore Colts, says he got the message loud and clear. "I think it's a warning over the bow that if ... other people want to speak out for representation in the NFL, it's looked upon unfavorably."
It makes sense that Upshaw would want to quiet anyone who might point out that no ex-athletes have it worse than NFL players. (Save for boxers, but don't expect them to unionize anytime soon.) And what better way to consolidate power than threatening to shutdown Blogspot sites. Fight the real enemy, Gene.
The Blog Is Mightier Than The Sword [The Feed]
NFL Retirees Blog