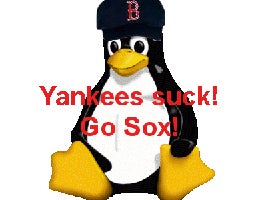 Tim Gorman, a correspondent for the Boston Globe (read: unemployed writer), decided to conduct a social experiment and run the Boston Marathon dressed as a Yankees fan. This could have ended very badly, but didn't, thank heavens. There was this, however:
Back on the right side, a kid was holding a penguin for runners to pat on the head, presumably for good luck. I reached out as I approached the penguin and he quickly snapped it back. No Yankees allowed. Then a husky fellow standing next to him reiterated that point, with unprintable profanity.
Amazingly, this is the exact nightmare we have had each Tuesday night since childhood. We're told the penguin represents love. Or cookies (we forget).
Faux Yankee Gets Earful Of Bronx Cheers [The Boston Globe]