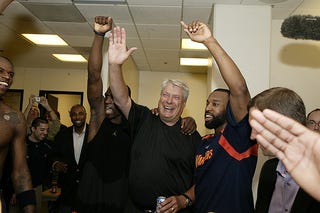 Notes on Wednesday's games in the National Basketball Association ...
• Where Have You Gone, Billy Owens? Normally no one would make a huge fuss over an eighth playoff seed, but this is the Warriors, who haven't tasted the post-season since Latrell Sprewell and Chris Gatling were in the lineup (Jud Buechler! Dell Demps!). That was in 1994, when the coach was also Don Nelson (he coached there from 1988-94, then was hired again in 2006). Needing a win (or a Clippers loss) on the last day of the regular season to get in, Stephen Jackson had 31 points and Baron Davis had 12 points, 10 rebounds and 14 assists to lead the visiting Warriors over the Trail Blazers 120-98. Their prize is a first-round matchup with Dallas, which had the NBA's best record this season at 67-15. Nelson, who coached the Mavericks from 1997-2004, has beaten Dallas in five of their past six meetings. So, in this case, first round = fun!
• Anticlimax Theater. The Clippers found out during their game that the Warriors had won, eliminating them from the playoffs. And so Rasual Butler's tie-breaking jumper with 1.5 seconds left gave New Orleans an 86-83 win, sending LA to summer vacation and a spot in the draft lottery. Not so bad, when you think about it.
• Net Dividends. So as it turns out, the Nets draw the Raptors in the first round of the playoffs, and the Bulls get the horns. Er, the Heat. Vince Carter's 24 points, 10 rebounds and nine assists led New Jersey past Chicago 106-97, costing the Bulls the No. 2 seed in the East. The Nets get the No. 6 seed, with the Cavaliers moving up to No. 2.
• Lakers-Suns Rematch On Tap. Meanwhile, the Lakers signed the final papers for their No. 7 seed in the West, which gives them a first-round series with the Suns. LA beat Sacramento 117-104 behind Kobe Bryant's 34 points. Last year, the Suns overcame a 3-1 deficit to knock out Los Angeles in seven games in the opening round. Game 1 of the series will be Sunday in Phoenix. See you there?