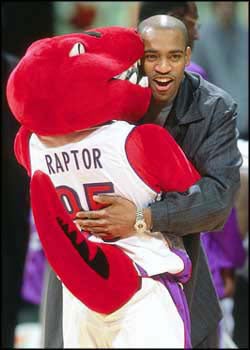 With last night's wrapup of the regular season, the playoff matchups are set. There are eight conference quarterfinal contests, and the whole shebang kicks off this Saturday.
Because we feel that no one understands the NBA more like the way we wish we understood the NBA than the gang at Free Darko, we've asked them to write up previews of every playoff series throughout the postseason. It will help us understand what's at stake in each series, what matters, what it means for the individuals involved, their fanbases and their history. And there will also be funny, bizarre, non-linear photographs.
After the jump, our first playoff preview, the series between the New Jersey Nets and the Toronto Raptors. We suspect you might have heard about this one; it's the battle of the team Vince Carter pissed off against the one he's preparing to. If you want to hop in with your predictions in the comments, please do. Because we type about sports, and people expect it, our prediction is Raptors in 6.
And now, Nathaniel Friedman, from Free Darko, after the jump. Enjoy.
————————————————
Get your weight up — it's time for the Vince Carter Bowl! The Toronto Raptors may have rinsed away the doofy purple and acquired a new friendly All-Star in the form of spry big man Chris Bosh. But still, no player is as closely associated with that franchise as the all-time king of the dunk contest. I talk to a few real live Raptors fans—they mostly call Canada home and keep basketball blogs. All season long, they've raved about the streamlined, zig-zagging fast break Raptors. And yet here the freshly-Reddened Swarm is, staring the trauma of the past straight in the eyes and unable to escape its hold. If the Raptors are ever going to get truly reborn, they have to tear through Vince Carter as part of the healing process. That's the iron fist of psychoanalysis, and that's why this series had to happen.
The thing is, I doubt Vince himself is that amped about any of this. Not because he's ice-like, or, as his enemies would have you believe, low on motivation. Carter just doesn't seem to pay much attention to the code of professional sports. So he flew to his college graduation the day of a game seven; it only took a few hours, and the Gulfstream experience is not about handing out thrombitis. Jordan wanting to start in his last ever All-Star Game? What mattered is that Carter gave up his spot, even if it was only a few minutes before tip. As player and as a personality, he floats over it all, like a glassy-eyed bird of prey clutching a missile. He's the NBA's Beyonce: a rapturously proficient ghost who needs help approximating urgency or humanity. Thankfully, this incarnation of Vince Carter has his gutsy, team-oriented Kelly in J-Kidd, and his very own Michelle in Richard Jefferson. If you're keeping track, that makes Marcus Williams the Solange-esque sideshow.
The Raptors are about as overhyped as an unheralded team can be, the proverbial "most known unknowns." Many children in the cornfield have told me that they're Bryan Colangelo's Oedipal answer to the Suns, that Andrea Bargnani was a perfectly respectable first overall pick, and that Sam Mitchell has gone from body-slamming Rafer Alston to deserving Coach of the Year. And yet somehow, we don't hear enough that Chris Bosh has emerged as one of the Association's best players. I get that if these are the Suns redux, then Bosh is Amare. . . which would make T.J. Ford into Nash? While the once back-broken waterbug is having a career year, he doesn't provide for Bosh the way Stoudemire depends on Nash. This whole team follows from the Class of 2003's forgotten citizen, just as Phoenix originates in Nash's velvety hands. Bosh is the MVP-ish hub around which Ford, Anthony Parker and Juan Dixon harmoniously squiggle.
The Nets are never as bad as you think, but rarely as good as imagination suggests they could be. Absent vowel-less wonder Nenad Krstic, their frontcourt is a place of shame, sorrow, Mikki Moore and Josh Boone. Yet still, in the uneasy East you'd think three stars would be enough to stir the toilet a little. For this reason alone, we can hold out hope that roughly one-quarter of the Nets' showing will be sturdy playoff heroics. And while the Raptors may be spazzy child-lizards looking to prove they can grapple with the postseason, Bosh deserves more than mere legitimacy. This kid stands a few narrative shards away from superstardom and finally now has the chance to shed his cloak of thankless obscurity. While the first round in the East is hardly prime real estate, I firmly believe that Bosh can send some ripples through the general public.
This isn't a question of what, but when and how. To paraphrase Carl Lewis, the Raptors need to realize that they're the ones who come out of this series alive. At the same time, the veteran playoff g-spot is a stubborn apparatus. Who knows how long it will continue to push the Nets' notables, well past when they should've creaked out of the track meet? I won't be surprised if this goes six games, with only two of them close. Then again, I also wouldn't bat an eyelash if it's a sweep where every game goes into overtime. The Nets will take their stand, and it will fail. What remains to be seen is how efficiently they will do so.