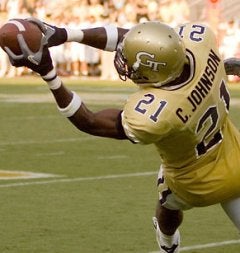 Pro Football Weekly has unearthed a pleasant little nugget from the endless parade of young men flexing in their underwear that is the NFL Draft: Three of the top expected draft picks admitted to smoking pot.
Amobi Okoye, Calvin Johnson and Gaines Adams all admitted during interviews at the NFL combine that they have used marijuana, according to a story reported by Pro Football Weekly on its Web site. All three are regarded as top-10 picks and all three could be off the board in the first five picks.
PFW says it seems unlikely this would affect their draft stock, and we say thank heavens to that. We hate to be the bearer of bad tidings, but we no longer are too taken back by marijuana use by our athletes. In fact, we're starting to think there's something weird if they're not doing drugs. (This is why we wouldn't draft Brady Quinn, by the way.) In fact, we're pretty convinced everybody else who was asked is lying.
The Way We Hear It [Pro Football Weekly]
Wanna Get High? [AngryT]