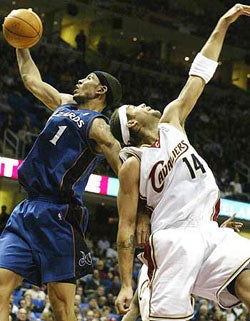 With last night's wrapup of the regular season, the playoff matchups are set. There are eight conference quarterfinal contests, and the whole shebang kicks off this Saturday.
Because we feel that no one understands the NBA more like the way we wish we understood the NBA than the gang at Free Darko, we've asked them to write up previews of every playoff series throughout the postseason. It will help us understand what's at stake in each series, what matters, what it means for the individuals involved, their fanbases and their history. And there will also be funny, bizarre, non-linear photographs.
After the jump, our last playoff preview of the day, the series between the Cleveland Cavaliers and the Washington Wizards. No Arenas. No Arenas. Damn. Well, let's see LeBron turn it on, anyway. If you want to hop in with your predictions in the comments, please do. Because we type about sports, and people expect it, our prediction is Cavs in 5.
And now, Bethlehem Shoals, from Free Darko, after the jump. Enjoy.
———————————————-
First off, let's eradicate all the things that Cavs/Wizards is not. It's not going to be a rehash of last year's firestorm, which arguably made both LeBron and Arenas who they are today. It's not the James/Wade tango that nearly was — which is fortunate, because there was zero buzz about this possibility and it would have knocked one out way early. And to be perfectly fair to my sources, this isn't the same LeBron who romped into the 2006 postseason with one hand up immortality's skirt.
At least among picky eaters, the LBJ's stock is at an all-time low. Blame it on Mike Brown's stifling offense, the inept Cleveland front office, or our own skewed version of what accomplishment means. But in one choppy season, Gloria's boy squandered all the superstar capital he'd earned against the Pistons and Wiz. The point isn't whether it's fair to expect James to save Cleveland on his own — admit it, last May we all thought he could. So for the team to drop from the "must-watch" status and LeBron get taken for granted, well, that's deflation. I know all about the man called Larry Hughes, and how he's taken up the point guard position. I think that's more a testament to how broken the Cavs are, in the same way that black markets flourish and warlords build schools in war torn lands. The awakening of Pavlovic, the hairy spatters of Anderson Varejao, Boobie Gibson's range ... all these things are true, and yet none are mutually exclusive with a commanding LeBron. The playoffs are theater, and there's really nothing to bring the house down like the messianic urge fulfilled.
As for the damaged Wizards, well, these times are hard. Let's not underestimate how much Arenas needed these playoffs — sure, his star rose like a blob of helium this season, but those missed free throws still linger. Even if you believe that he's over that, kindly turn to his kid-in-a-candy-store '06-07. Without a weighty playoff run to back up all the swag, he's no better in the books than T-Mac in Orlando: a fantastic individual performer who can't drag his team through the rapids. Alas, Gilbert is gone. Caron Butler clutches at his broken hand; he believes in the will above all else, and yet can offer nothing but the faint promise of a second-round return. Antawn Jamison keeps up his head and pushes onward, with Deshawn Stevenson cackling by his side. But the cupboard is bare, hope long ago replaced with cobwebs, and a dignified exit the best-case scenario. And for the media to respectfully ignore them in their hour of ruin.
Luckily for them, this series will be all LeBron, all day. The more absent and pale the Wizards are, the less it will sting; if James goes the eff off, this will become a refresher in what made us all witnesses. Here's the young fella's chance to restore his luster, to get us believing again that basketball belongs to him. What better an opportunity than a first-round opponent that belongs in the lottery? Now, this could backfire hopelessly — if the Wiz do anything more than steal one game, James will be accused of lacking substance. Somehow, though, I just don't foresee that happening. As Agent Steinz astutely observes, LeBron's really the only Cav that's in any way imposing. But LeBron out to renew his good name — well, it will only a take a little of that for the Wizards to evaporate and for the King James Version to get back on that heavenly track.
What words to give the Wizards faithful? To thee, I would say: This dismal week will be all about looking inward. Remember the good times. Bathe in the warmth this season left in your stomach. Send a friendly message to the aforementioned Steinz, who has played an instrumental role in making most of the world into Wiz enthusiasts. When this team was up, the high was delirious. When the the rough patches set in, they passed the time with good humor. The temptation will be strong to venture into these God-foresaken waters, but be warned: Your love will not save you here. Turn away, know that it will soon be over, and instead make this a nondescript celebration of what a better person this team made you.
Cavs in five. LeBron on every shoehorn. Numerous Andray Blatche close-ups. And then a whole summer of foment from the Armies of Gilbert.