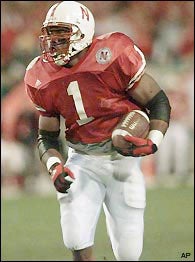 An old George Carlin comedy routine had a good time mocking California's "Three Strikes And You're Out" policy of jailing three-time felons for life; Carlin pointed out that the writing of laws for the incarceration of our citizens should perhaps not be based in cute and funny baseball terms. But as far as we know, no athlete has ever actually notched one of the real-world trifectas.
But we're awfully close, in the person of the one and only Lawrence Phillips. Turns out, Phillips could be starting down the barrel of his third strike (if we might play the Stephen Colbert metaphor game for a moment).
The guilty plea from 2000 would be his first strike (the previous dragging his girlfriend down a flight of stairs doesn't count as a strike). His "taking his anger out on a bunch of kids who beat him at a pickup game in a sport he used to play professionally" crime (also defined above as assault with a deadly weapon) would make his second strike, and therefore double the maximum sentence to 20 years.

If all goes bad, Phillips could soon be facing his third strike. On top of all of these, he's also awaiting trial on charges he struck his live-in girlfriend in San Diego and strangled her into unconsciousness in 2005. I just hope it wasn't the same girlfriend as the 2000 incident.
So yeah, matters didn't turn out to well for Mr. Phillips. If only Dick Vermeil had tried harder!
Lawrence Phillips: Delay Of Conviction [Lion In Oil]