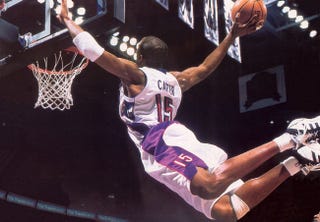 The Raptors-Nets series tips off tomorrow, and everyone's talking about the supposed "revenge" factor involving Vince Carter and his former team. We find this amusing that this is the big angle from the series, considering this has to be the first time media folk have cared about Raptors fans.
But we do! We asked Neate Sager of the Out Of Left Field blog — and happy Canadian! — to explain to us exactly why Vince is hated so much, why they can't wait to play him in the playoffs and, generally, just rant, because ranting without inhibition is another of the great, unique aspects of this whole business. One thing is clear, though: Carter hasn't changed a bit.
So, after the jump, take it away, Neate, you crazy Canadian you.
(UPDATE: By the way, as you'd suspect, J.E. Skeets has something to say about this as well.)
———————————————
What chaps our collective Canadian ass about Vin Weasel first and foremost is the whole myth we needed him to teach us about the NBA.
To this day, you hear stuff along the lines of how Vince Carter "literally kept a franchise viable when it wasn't that clear basketball would catch on in Canada," as one Jersey columnist, Dave D'Alessandro, from the Newark Star-Ledger put it the other day.
Well, believe it or not, even hick Canucks who grew up outside of villages of 1,100 people were able to watch those Lakers-Celtics games on CBS in 1980s and those games weren't always aired against a Stanley Cup playoff game or reruns of Bizarre. We knew about the NBA before the Raptors, let alone before Vin Weasel's arrival in 1999. Regardless, we've always had to deal with condescension ever since the '95 NBA Draft in Toronto when some morons from the league in their Manhattan wisdom set up a booth where league staffers explained traveling and double-dribbing. People scoffed, politely; it was Canada, after all.

Vin Weasel, who rode a wave of false hope and blind hype, is the straw man for all that. So since Wednesday night, when his New Jersey Nets locked up a first-round series vs. the rebuilt Raptors, it's been Christmas in April. It's hard to drift off to sleep while imagining how bad 19,800 people are going to give it to Wince once Game 1 tips off tomorrow afternoon.
The Nets aren't even going to stay in Toronto between the first two games. Seriously, when have you ever heard of a team basing it travel plans around how much one player is detested in the opposing city?
What's also grating is that Carter, even when he's having some killer games that make the Nets a very dangerous 41-win team, can still be the same ball-less wonder he's always been. This week has been Toronto circa 2004, with Vin Weasel saying something without saying something. Predictably - pathetically — you keep reading these quotes from teammates - Jason Kidd, Mikki Moore, Antoine Wright — about how bad Carter wanted this series, but when asked about it, he spits up a bunch of pabulum such as, "Now it's the second season. It should be fun."
That's classic Carter - telling his teammates what to say while acting like it's all good. That speaks to why he'll forever be the greedhead whose ego pulled down a whole franchise, for a time, anyway. Sure, it was understandable that a NBA star would have wanted out of the situation the Raptors were in around 2004 B.C. (Before Colangelo), but Wince could never just nut up and say it.
Naturally, only Carter could be so clueless and P.R.-challenged that he let his pout-a-thon occur at same time that every sports fan in the city was already PO'd about the NHL lockout. There was nothing else going on except Raptors basketball in the fall of 2004, so it became a major flashpoint.
Well, in Year 1 of the Great Raptor Redesign, Bryan Colangelo's bunch has homecourt advantage for the first time in franchise history with a team led by an inside scorer (Chris Bosh) and a point guard (T.J. Ford) in their first year together, who are 22 and 23, respectively. Throw in a supporting cast which represents more athletic backgrounds than some NHL teams — José Calderón, Rasho Nesterovic, Andrea Bargnani and Anthony Parker, formerly of Maccabi Tel Aviv — and lovably batshit coach Sam Mitchell, and the Raptors are an easy team to love.
The short synopsis for the series is there's probably no way it won't go the full seven games. Bosh's all-around game in the low post, Parker's emergence as the second scorer and Calderón pushing the ball when both teams have their second units on the floor are going to be enough to put the Raptors over the top.
So yeah, Carter vs. Canada is too good to miss. After what he did to the franchise and the way he dissed the city, this has become the biggest post-season series involving a Toronto team since the Doug Gilmour/Wendel Clark Leafs battled Wayne Gretzky's L.A. Kings in the '93 Stanley Cup semifinal series. All those Battles of Ontario against the Ottawa Senators combined don't matter as much as the prospect to see Vince Carter slink off the floor after the Raptors win the series.
If that happens, it's easy to picture Vin Weasel letting a smirk slip through as he wonders what franchise he's going to wreck next if he becomes a free agent this summer. As my co-blogger Neil Acharya once put it, screw him and the crutches he pretended to walk in on.