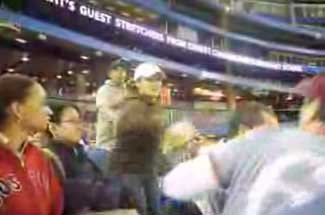 • In Fenway they throw pizza, and in Toronto they throw beer.
• Kids, this is what happens when you aren't good at soccer.
• Pete Carroll is in much better shape than Will Ferrell.
• Free Darko took us into the playoffs.
• Bud Selig solves all racial inequality.
• No-hitters are the best.
• "Hey, can I get an autograph ... YAHHHHHH!"
• Hello, lady.
• SLICE!
• Mario Williams likes to drive fast.
• Brutal, even for Australian Rules Football.
• Keith Olbermann and Bob Costas, partners for LIFE. (Or a couple of months, anyway)
• Hello, matador.
• Heroin beer!
• Vince Young, sheathe thyself.
• Honoring those lost in Blacksburg.
That'll do it for us; we've got a couple more Free Darko previews coming tomorrow, which our man The Mighty MJD will seamlessly integrate into the madness of the playoffs' opening weekend. We are very proud to report that we are going to a game at Tropicana Field tonight — oh, we're in Tampa, by the way — because we can watch any baseball game, anywhere, anytime. Go D-Rays, and we'll see you Monday.