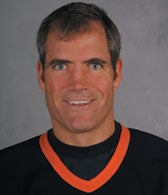 In their ongoing battle for relevancy in the world of sports, the NHL took a positive step forward yesterday, proving that their sport is cool enough to require the use of steroids. New York Islanders 37-year-old journeyman defenseman Sean Hill was busted for abusing performance enhancers.
He's been suspended for 20 games, and this would add a ton of intrigue and drama to the NHL playoffs ... if the Islanders weren't eliminated from the playoffs last night. Hill-less, they went out and lost 4-3 to Buffalo, eliminating them from the postseason. That's too bad. The NHL really could've used the publicity that a massive steroid scandal would bring.
Barring appeals and such, that leaves 19 games on his suspension to carry over to next year. I can't tell you what sort of effect that will have on the Islanders. Sean Hill had but one goal this year, but maybe he's one of those mucker/grinder types who punches European people in the face and makes Don Cherry delight with glee. Maybe he's a great defensive player. Maybe he pulled his dick out at a fashion show. I have no idea.
Sabres 4, Islanders 3 [NHL.com]
Islanders' Sean Hill Suspended 20 Games [Chippewa.com]