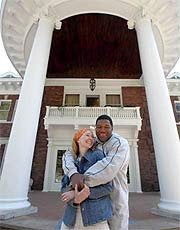 So rarely do the worlds millionaire athletes and yard sales collide. But, you know, it's not every day that athletes get cleaned out in a divorce quite like Michael Strahan did. And this weekend, at her (formerly his) mansion, Jean Strahan sold a bunch of his shit.
Dressed in a yellow work apron, Strahan also hawked her ex-husband's Giants leftovers, including Giants' Pro Bowl bags monogrammed with his name and gloves worn by the football star for $50.

Loyal Giants fan and Montclair resident Jamal Callaway snapped up two Pro Bowl bags at $5 a piece and also left with two televisions — a 32-inch and 20-inch — for $100.

"I get to cheer for Mike on his TV," said Callaway with satisfaction. Asked if the televisions were flat screens, Callaway quipped, "She's not that mad at him."
Also for sale were some "Hooked on Phonics" tapes. I don't know if they were Strahan's, his wife's, or if Dexter Manley lived there for a while.
Bargains from a broken life [The Star Ledger]
Jean Strahan Holds Yard Sale in Order to Make Ends Meet [FanHouse]