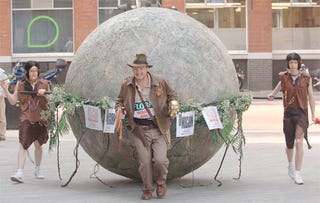 Here we have Lloyd Scott, who completed the London Marathon on Sunday while dressed as Indiana Jones, raising a bunch of money for charity in the process. (Note to teenage boys: Dressing like this while manning a hand crank over long distances pretty much guarantees that you will never, ever have sex). Now, here are some additional Lloyd Scott facts:
• Recently visited Australia where he traveled 2,700 miles from Perth to Sydney on a penny farthing while dressed as Sherlock Holmes.
• Has divorced his wife because she was caught sleeping with two of his friends. "By the time Mr. Scott completed the London marathon in May, dressed as St George in a suit of armour and hauling an 8ft dragon, the couple, who married in 1986, were going through divorce proceedings."
• Drove a Mini with flat tires from Land's End to John o' Groats on the 8 May 2006.
Well, OK, who hasn't done that third one.
London Marathoner Ready To Roll [Evening Standard]
Lloyd Scott Wikipedia Page [Wikipedia]
Indiana Scott Finishes Marathon [ITN]
Divorce Heartbreak For Charity Fundraiser [Daily Mail]