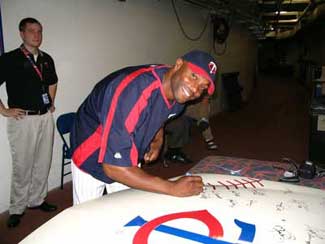 Is Torii Hunter about to be banned by Major League Baseball for the next three years? Well, probably not, but he certainly could be.
When Hunter gave the Kansas City Royals four bottles of champagne this weekend, he was fulfilling a promise he made after the Royals swept the Detroit Tigers last September, helping the Twins win the division title. But with that gesture, Hunter also violated little-known MLB rule 21-b.

The rule states, "Any player or person connected with a Club who shall offer or give any gift or reward to a player or person connected with another Club for services rendered ... in defeating or attempting to defeat a competing Club ... shall be declared ineligible for not less than three years."
This was first pointed out by the increasingly invaluable Cheater's Guide To Baseball Blog, and everyone else just followed in its footsteps. (This has happened twice now.) The Royals didn't actually open the bubbly, but both they and Hunter are likely to be fined. We prefer to think of this as a glamorized revenue sharing; like the Royals are gonna have any champagne otherwise.
Hunter's Champagne Gift Runs Afoul Of MLB's Rules [Minneapolis Star-Tribune]
A Bubbly Reminder Of A Corrupt Past [Cheater's Guide To Baseball Blog]