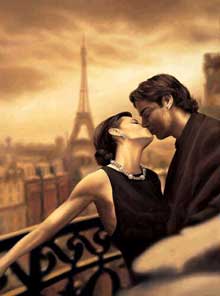 On the list of things that you would never imagine being against the rules until someone actually does it, this would have to be pretty high up there.
Television pictures showed Cabofriense defender Cleberson giving referee Ubiraci Damasio a peck on the cheek after having a foul awarded against him during a 3-1 defeat by Botafogo at the Maracana.

The two were initially involved in a friendly exchange but the referee's mood quickly changed as he pulled out a yellow card and could be seen to say that Cleberson was not allowed to kiss him.
Yeah, you know, isn't that always how it goes? You're having a nice "friendly exchange," and then you go in for the tongue ... and you end up with a yellow card out of it. This is exactly how our prom would have gone, had we not spent prom alone playing "Mike Tyson's Punch Out."
Brazilian Player Booked For Kissing Ref [Radio New Zealand]