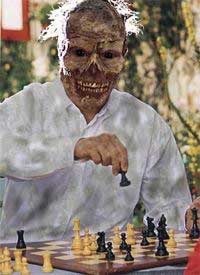 NFL teams preparing for Saturday's NFL Draft have a lot to figure out an individual player. They need to understand his attitude, they have to make sure he's not gonna get arrested a week after they draft him, they make certain he will fit into the team mindset they have patterned for their franchise.
Another key factor: Making sure the player is alive. ESPN's Draft Tracker might not be of much service here; currently, ESPN has a player ranking for Albany State running back Antonio Atkins, who, uh, was killed in April 2006 when he was breaking into a house. This will no doubt hurt his draft status, severely limiting his upside.
To their credit, ESPN has Atkins listed as 145th out of 145 ranked running backs, which is encouraging to those other 144 guys, to be certain.
Meanwhile, Lucious Pusey will be waiting eagerly by his phone on draft day.
A True Draft Risk [Sports. Music. Blog.]
Lucious Pusey Flying Up Draft board [The Realests]