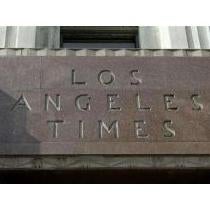 Not that this is shocking news or anything, but it is a bit bracing when you log on to a major daily's sports site — expecting to catch up on some soccer news, and maybe some baseball and whatnot — and are hit with this. Yes, we'd say the following is heavy on the whatnot.
During my 23 years with The Times' sports department, I have held a wide variety of roles and titles. Tennis writer. Angels beat reporter. Olympics writer. Essayist. Sports media critic. NFL columnist. Recent keeper of the Morning Briefing flame. Today I leave for a few weeks' vacation, and when I return, I will come back in yet another incarnation. As Christine.

I am a transsexual sportswriter. It has taken more than 40 years, a million tears and hundreds of hours of soul-wrenching therapy for me to work up the courage to type those words. I realize many readers and colleagues and friends will be shocked to read them.
Los Angeles Times sportswriter Mike Penner is soon to become Christine Daniels (why the last name changes we're not sure), which we learn on the Times' web site today in a first-person story, which was placed beneath the NHL recap. Well, the Ducks are a cause for concern. Penner will soon complete transgender reassignment therapy and return to the Times in a few weeks as a female sports reporter.
As related in Penner's column and as seen in the workplace (this is hardly anything new), the transition is not going to be easy. (Baseball Prospectus managing editor Christina Kahrl went through the same procedure a couple of years past.) We wish you the best, Christine. (Side note: Penner was married to fellow Times writer Lisa Dillman. We are curious how that's working out.)
Old Mike, New Christine [Los Angeles Times]
LA Times Sportswriter Admits To Being Transsexual [Sports by Brooks]
(UPDATE: Christina Kahrl comments at Baseball Prospectus.)