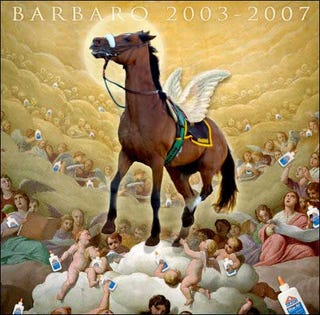 Friends, we are only three days away from a historic day: The big fourth birthday party for Barbaro. Nevermind that Barbaro is as aware of his birthday party right now as he would have been had he been alive; it's time to lament the passing of a non-sentient legend.
"Just be warned," said fan Sharon Crumb. "It's going to be very emotional. I don't think there's going to be a dry eye.

"I can't let Barbaro go," a choked-up Crumb said. "I won't let Barbaro go. ... "We went through a lot of tears together online. "I just have this vision of us being together for one great big group hug. And I hope we heal. I don't want people to say goodbye to Barbaro. I hope we become stronger."
Oh, man, Sunday — which is also when the NBC documentary is airing — is gonna be the greatest. We're gonna talk to MJD and see if he can observe a Deadspin moment of silence. Because by going through this together, we all become stronger.
Big Celebrations Planned For Barbaro's Birthday [Deadspin]
Barbaro Documentary To Run Sunday [BloodHorse]