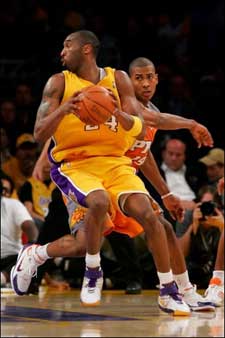 In a way, we kind of agree with what Free Darko wrote in their playoff preview for us: This could end up being the one playoff series in which, if the Lakers lose, Kobe Bryant might get a pass. But he's not gonna be able to pull it off if the Lakers, you know, actually make it close. A four-game sweep wouldn't be seen as Kobe's fault; a Game 7 loss in which he doesn't score 60 would.
Last night's Lakers win over the Suns dissuaded many Lakers backers from throwing up their hands and admitting their team is toast, thanks largely to Kobe and Kwame Brown, who just keeps hanging around and being tall. In a way, it's encouraging to see Kobe and the Lakers avoiding the nasty 3-0 hole the Magic are in right now (and the Jazz avoided last night); it might have been easily dismissed had the Lakers been swept, but it still would have seemed wrong somehow.
They're playing 11 playoff games in the next three days; we're going to be so worn out.
Game 3 Thoughts [Forum Blue And Gold]
Free Darko Playoff Pants Party: Suns Vs. Lakers [Deadspin]