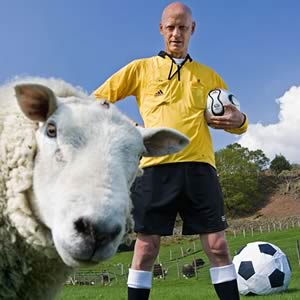 You know, it's getting toward the end of the month, and we're a bit miffed that our quarterly farm animal bonus has not been delivered. Oh wait, yeah ... we have direct deposit now. We forgot.
Ivica Supe, a defender for Zagora FC in Croatia's third division, showed up at work to find 16 sheep waiting for him — one for each goal he's scored this season — courtesy of the team's lone sponsor, sheep farmer Josko Bralic. "We are only a small club, and we could not get anyone else to sponsor us," a club spokesman explained to Ananova.com. "There is no industry in the area, it's only a small village, and we were delighted when Mr. Bralic offered to support us with sheep."
The best part is that soccer season's not even close to being over. ("Don't put me in, coach! My apartment's too small!") Here in the U.S., we know for certain that any sheep incentive clause in professional sports would not go over well. Except with Michael Vick, who would figure out a way to make them fight. But, you know, camels; that's another thing entirely.
It's Unherd Of [Seattle Times]
Ismael Matar Helps UAE Get Over The Hump [The Offside]