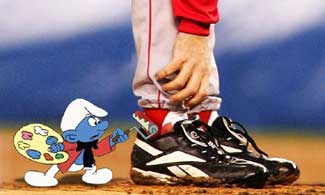 • We don't trust anything that bleeds for eight innings and doesn't die.
• Michael Jordan, enjoying himself.
• Michael Vick loves all of God's creatures. Well, the ones that win, anyway.
• Goodbye, David Halberstam.
• Does LAT health insurance cover this?
• Seriously, kid, walk it off.
• Alex Rodriguez, making new friends.
• Rising up ESPN's draft boards!
• The Braves will gladly charge your 25 percent interest to watch Brian McCann.
• When we realize Bonds is going to break the record, we consider doing the same thing.
• Here's the story "Baseball Tonight" was happy to swipe.
• Your ESPN fantasy team name must be clean.
• Dance, LeBron, Dance.
• Woo NASCAR!
• Admit it: You'll be scared if the Browns win the Super Bowl, won't you?
• Don't kiss the refs.
• Sunday is the day.
All right, enjoy The Mighty MJD and Mike Tanier from Football Outsiders around here this weekend. We'll be back Monday, tanned, rested and ready. Be safe.