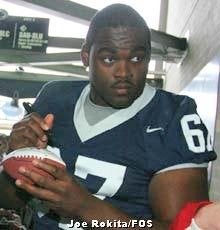 With the 5th pick of the NFL Draft, the Buzzsaw Select Levi Brown, OL Penn State. Mike Tanier of Football Outsiders tells you all about it.
Back in November, the guys who were working Edgerrin James' Hall of Fame bust were given pink slips. Edge was getting killed behind the Cardinals line, and all that bronze could be put to better use as splash and ride cymbals, what with Rush going on tour this summer and whatnot.
Now that Brown is in Arizona , the bust-makers may be called back to work. New coach Ken Whisenhunt suggested last month that Oliver Ross is capable of playing left tackle. I started to think that something in the desert air turns clear-thinking football lifers into blathering nincompoops. If Whisenhunt started screaming "crown their asses", I would have suggested lead poisoning.


Fortunately, it was all a smokescreen. Brown is a good old fashioned road grader of a tackle. He may have to start his career on the right side, but he'll be able to move over before Ross gets Edge creamed. Or, he may stay on the right side: remember the Cardinals have a lefty quarterback.
Brown may have been a bit of a reach with this pick, but the Whisenhunt is smart enough to know what he doesn't know. When you have been down as long as the Cardinals, you don't get cute with the fifth pick in the draft. You grab a big basher who started for four seasons at a major program and stick him in the lineup.