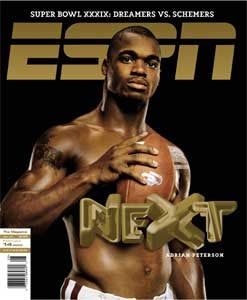 With the 7th pick of the NFL Draft, the Minnesota Vikings select Adrian Peterson, RB, Oklahoma. Mike Tanier of Football Outsiders tells you all about it.
Deadspin lacks the bandwidth to list all of Peterson's injuries, so we'll stick to the highlights: a high ankle sprain in 2005, a shoulder injury in 2004, and most disturbingly, a broken collarbone in 2006 that Peterson re-injured in the Fiesta Bowl. Peterson says the collarbone is 95% healed, and he'll be ready to play by minicamp. Peterson had dozens of medical tests performed in the weeks leading up to the draft. The verdict: the collarbone should not be a problem, and he is definitely not Dannielynn's father.
When healthy, Peterson is an absolute truck. He's a 240-pounder trapped in a 215-pounder's body, which explains some of the aches and pains, but he can run over defenders 40 pounds bigger than him. He doesn't have much experience as a receiver - the Sooners only throw screens to their running backs - but he caught the ball well at Pro Day. Vikings coach Tobias Funke (Brad Childress) wouldn't select him for his West Coast offense if he couldn't catch.


What about Chester Taylor and his 1,200 yards, you ask? Good question. At Football Outsiders, we have Taylor ranked 33rd among running backs last season. It's not that we don't like him, it's that our play-by-play breakdown suggests that there were lots of seven-yard gains on 3rd-and-15 (stat fluff, in other words) in his totals. He's a very good change-of-pace player. Peterson is pace setter.