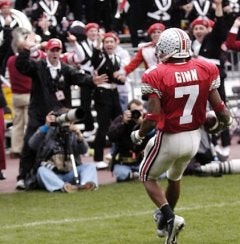 With the 9th pick in the NFL Draft, the Miami Dolphins select Ted Ginn, WR, Ohio State. Mike Tanier of Football Outsiders tells you all about it.
New Dolphins coach Cam Cameron is a divergent thinker. The Dolphins wanted a quarterback in round one, and Cameron wanted someone who could make decisions under duress. So he made quarterbacks diagram plays during interviews under a strict time limit. The Quick Draw drill left the Dolphins with two top targets: Brady Quinn and Toulouse Lautrec. Lautrec had too many passes batted down at the line, and Quinn's haricut scared them off, so the Dolphins set their sights on Ginn. Or maybe this is a dimpled chad thing: Cameron got his "Q" and "G" mixed up and really wanted Quinn.
This is a bad, bad pick. Ginn couldn't find the middle of the field if you gave him Mapquest directions and a GPS. Ginn's extremely fast and could impersonate Devin Hester as a rookie, but he doesn't like to stray into that neighborhood between the hashmarks where those big, bad safeties live. That's a big red flag: the NFL is full of guys like Roddy White and Brandon Lloyd who can't contribute to an offense because they get the yips when they're too far from the sidelines.


The Dolphins will probably trade for Trent Green in the next few weeks. Their plan is to keep signing veteran passers coming off scary injuries until one of them pans out. Whoever starts at quarterback can just rip all the dig and drag routes out of his playbook. Randy McMichael is gone, and Ginn sure isn't going to run 'em.