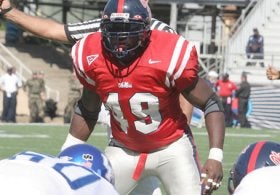 With the 11th pick of the NFL Draft, the San Francisco 49ers select Patrick Willis, LB, Ole Miss. Mike Tanier of Football Outsiders tells you all about it.
First, a note on our favorite vest-wearing prospect on the skids. Brady Quinn's stock is dropping like liquid mercury through seawater, so Commissioner Compassion has come up with something new: the Passer-Over Draft Choice Isolation Chamber and Inactivity Room. Quinn can now relax in a sensory depravation chamber far from the peering eyes of lookie-loos like us. The room is filled with draft guides, most of which feature Quinn on the cover. There are also some forgotten alternate O.J. Simpson jurors in the room, snacking on stale dougnuts and waiting for a verdict. I expect Quinn to emerge from the room Altered States-style as some sort of werewolf. If so, he'll have to change positions.
Now, onto Willis, who was already the top linebacker on most draft boards before he went that extra mile to impress scouts at his pro day. Pro personnel types love prospects who run through drills with a no-questions-asked attitude. Willis was very accommodating. Want him to run a three-cone shuttle? Sure. Want him to perform some defensive end drills? No prob. Want him to balance a plate of eggplant parmesan on his head and run through tires while singing "Cherchez La Femme?" Whatever floats your boat, Coach Del Rio.


Willis has everything that Niners assistant coach Mike Singletary could want in a linebacker except for those googly eyes. Willis wore a visor in college, so he couldn't haunt quarterbacks with his stare. Facial expressions are easy to coach, and both Singletary and Mike Nolan have to love a kid who played with a cast on his hand as a senior. Willis is fast, tough, smart, and can play in a 3-4 or a 4-3, which is important because the Niners really run a little of both.