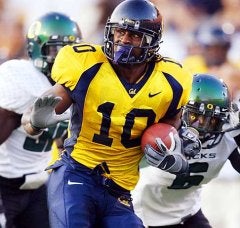 With the 12th pick of the NFL Draft, the Buffalo Bills select Marshawn Lynch, RB, Cal. Mike Tanier of Football Outsiders tells you all about it.
You gotta love Marv Levy: he goes back so far, he's in front of us. The dude may have driven 40 miles per hour on the New York Thruway with his turn signal on all the way from Buffalo to New York , but Levy made a gutsy call once he got there (actually, he probably stayed in Buffalo, but you get the idea). Like many senior citizens, Levy is on a fixed income. The Bills held a garage sale in the offseason, losing Nate Clements, Takeo Spikes and Willis McGahee. The Bills needed to add a playmaker, and Lynch can help the offense. He's a great all-purpose talent with more big-play ability than the post-injury McGahee, and his receiving skills will help diversify the Bills' attack. The biggest risk is that Lynch, like McGahee, will chafe in the dim-lights, small city environment that is Buffalo .
I would have taken Leon Hall if I were Levy, but a team can only solve one problem at a time. Levy reached on Donte Whitner last year, and you know what? The Bills ranked 6th in the NFL in pass defense according to DVOA. Of course, Levy could just think that Lynch is a golf caddie, based on his cart-driving skills. If so, ignore the tempered optimism of this commentary. If Levy demands a five percent senior discount when negotiating Lynch's contract, we know the Bills are in trouble.