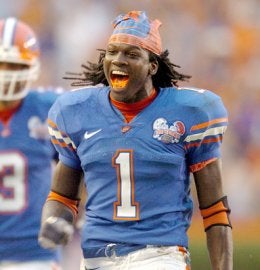 With the 21st pick of the NFL Draft, the Jacksonville Jaguars select Reggie Nelson, S, Florida. Mike Tanier of Football Outsiders tells you all about it.
The knock on Nelson is that he apparently isn't all that gifted in the grey matter department; the Gators simplified his assignments because he couldn't master all the nuances of their scheme. I'm not sure I buy it. The Nelson was a Sociology major, for goodness sakes. We all know that sociology is the molecular biology of the unemployable sciences.
Nelson doesn't have to calculate square roots in his head or read Thomas Pynchon novels to play safety in the NFL. But he does have to learn a system more complicated than the one used at Florida , and the Jaguars need him to be a quick study. The currently list someone named Jamaal Fudge as one of their safeties. Now that they have Nelson, they can ship Fudge off to a team like the Packers.
Nelson has the athletic gifts to cover for some of his mental mistakes. He's as fast as a cornerback, covers a lot of ground in the middle of the field, and has a knack for getting a good jump on the deep ball. He also blocked a few kicks in college, so he'll be able to terrorize punters when he's not leafing through the playbook with a pink highlighter.
Intelligence can be an asset, but it doesn't take a genius to play defense. Remember that Matt Millen played linebacker for 12 years.
I am outta here, Deadspin Fans. Don't forget to check out Football Outsiders, camp out now to reserve your Football Prospectus 2007, and visit me on FOXSports.com throughout the weekend.