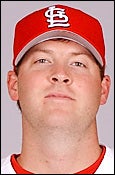 Cardinals pitcher Josh Hancock was killed in an automobile accident last night in St. Louis. There aren't a ton of details available at the moment, but police will make a statement later this afternoon.
Hancock was in his sixth year in the league, and was a member of last year's World Series team. He was 29 years old and was not married.
Tonight's Cardinals game against the Cubs has been postponed.
Press Release: Cardinals mourn loss of pitcher Josh Hancock [MLB.com]
UPDATE: From Patrick Imig at St. Louis Sports Magazine:
From the few minutes I've been listening to local radio, Josh Hancock was an amazing guy - just a regular guy - with a great sense of humor. He was also very close with his father. According to the Big 550 KTRS, Josh wanted to achieve everything in baseball as a tribute to his dad.
Josh Hancock Killed in Car Crash [St. Louis Sports Magazine]