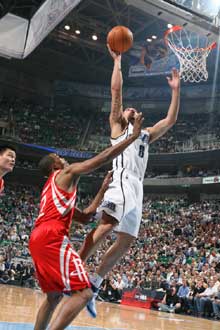 Lest we forget, in all the Warriors hub-bub, that another series took a fun turn last night, with the Jazz tying the Rockets 3-3 with a 94-82 win in Utah. The key Jazz star was Andrei Kirilenko, who shined late despite, you know, crying like a little girl earlier this series because he wasn't getting enough playing time. We could have done without this quote, though.
"I was definitely 'AK-47' tonight," he said, smiling.
Sure, dude, whatever. Anyway, the Jazz win sets up the playoffs' first Game Seven matchup, Saturday night in Houston. And, more than anyone else, Tracy McGrady will be the center of everyone's attention. If the guy can't make it out of the first round this time, with the Jazz vulnerable and Golden State sitting there, tantalizing, in the second round, then Mr. McGrady is going to have almost as much explaining to do as Mr. Nowitzki.
Kirilenko Saves The Day, Jazz [Salt Lake Tribune]
It's On You, Tracy McGrady? Then It's On You [The Fanhouse]