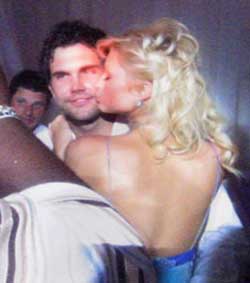 So that Peyton Manning on SNL appearance that we all liked a little more than we were expecting? Well, turns out the main reason Matt Leinart fired his agents last week is because that wasn't him on the show.
The main reason Leinart rejected the representation superpower is he was enraged that Peyton Manning, also a CAA client and repped by Condon, got to host "Saturday Night Live" before he did. Seriously.
We think it's awfully presumptuous that Leinart would think he'd get the spot above the guy who had just won a Super Bowl ... but, frankly, matters haven't quite been right for Matty since the Rose Bowl his senior year. As Buzzsaw boosters, we are concerned. Fortunately, he continues to have his family life to calm him and bring him peace.
Jealousy Of Peyton Led To Leinart's CAA Departure [Sports By Brooks]
Peyton Manning Much Funnier Than Anyone Could Have Guessed [Deadspin]
Cameron Family Just Pleased As Punch With Matt Leinart Right Now [Deadspin]