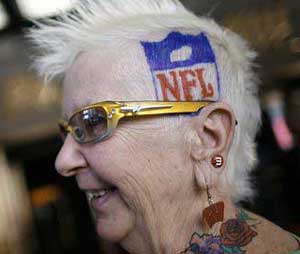 • Saying goodbye to Josh Hancock.
• The Bermanator!
• Adam Morrison, raging against the machine.
• The Seventh Floor Crew is now getting paid.
• Joe Thomas' aunt rules.
• Why do we still pay attention to George Steinbrenner?
• Yes, we have a Comment Ombudsman column.
• Mike Vick ... don't you ever change.
• Barbaro's interpretive dance.
• Bruce Willis loves being in Canada.
• Careful where you get your Cardinals tattoos.
• Maybe this is why Brady Quinn fell in the draft.
• Someone wants to steal ESPN Mobile phones.
• Warriors!
After that game last night, we are going to take a long nap now. The Mighty MJD will be with you all weekend while we're shooting mint juleps and enjoying a gorgeous weekend in New York City. We're just a week away from the Chicago Deadspin Pants Party, so keep an eye out for that, but for now, it is time to rest. See you Monday.