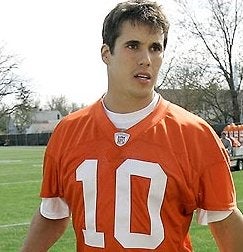 Brady Quinn's dreams had just been peed on for 4½ straight hours before finding out he was going to be spending his career in the high-fashion mecca of Cleveland ... I thought we could all forgive him if he looked a bit disheveled. Joe Theismann could not.
I felt like he could have presented himself in a much more professional manner. It looked like his tie was the first time he ever tried to tie one. It looked like his hair, he had just walked out of a shower, and he stands there, relieved as all get-out, chewing gum. And to me, that's not a professional image.
Anyway, Brady Quinn took it to heart ... and cut his hair before showing up to Browns minicamp. I personally don't feel like the length of his hair will be much of a deciding factor in how good he turns out to be. Listening to Joe Theismann, though ... that can't be a positive indicator.
Also:
Already under fire [News-Herald.com]
Brady Quinn Cuts Hair to Appease Joe Theismann [NFL FanHouse]
All eyes on Quinn [SI.com]