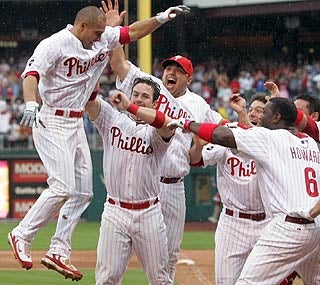 Notes on a day in baseball:
• If You Like The Phillies, Just Nod. Well, on Sunday, the Giants were beaten by a player whose bobblehead doll looks like this. How humiliating. Perhaps Armando Benitez wasn't the whole problem after all. Shane Victorino's walk-off homer on his own bobblehead day (has that ever happened before? Come on Elias Sports Bureau, let's get cracking!) led the Phillies to a 9-8 win over San Francisco. Ryan Howard also had a three-run homer has Philadelphia took three of four in the series and improved to .500. Victorino hit the homer off of Kevin Correia (1-2).
• Advantage, A-Rod. They're calling it the homer that saved the Yankees' season ... hmm, we don't know about that. But it didn't hurt. Alex Rodriguez had an answer for all of those Red Sox fans who had been riding him all weekend, his solo homer in the ninth breaking a tie and standing up for a 6-5 win over the Red Sox. Rodriguez's victim was Jonathan Papelbon (0-1). He has 20 homers. The Yankees' comeback from a 5-4 deficit kept them out of last place in the East and left them 12 1/2 games behind the first-place Red Sox.
• Do Not Feed Albert Pujols. Albert Pujols homered twice, and nearly had a couple more, as the Cardinals beat the Astros 8-6 in 10 innings. So Taguchi and Pujols each had homers in the 10th.
• Vlad The Impaler. Vladimir Guerrero's two-run homer in the bottom of the ninth led the Angels over the Orioles 4-3. Sad, really: Jeremy Guthrie had held LA to one hit over seven innings.
• Let's Hear It For The Kaz Man. Kaz Matsui led the Rockies back from a six-run deficit with a bases-loaded triple in the eighth, and also scored the go-ahead run on Brad Hawpe's single as Colorado beat the Reds 10-9 in 10 innings.