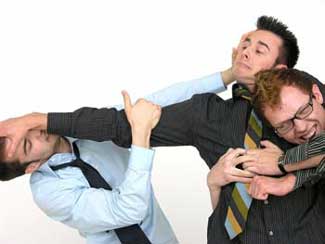 Twice a year, members of the New York media play members of the Boston media in baseball. This is surely amusing to watch — fat guys fielding grounders is always a reliable source of comedy — but yesterday, at Fenway Park, there was a truly beautiful happening: They almost had a bench-clearing brawl. (Via Barstool Sports.)
Then, believe it or not, we nearly had a brawl with the Boston media. New York reliever Bob Klapisch accidentally hit Boston Spanish radio broadcaster Uri Berenguer in the helmet with a pitch. Berenguer took Kevin Youkilis-like exception to the pitch and tempers flared on both sides. Boston manager Carl Beane, the Fenway Park PA announcer, had to be held back from attacking a few of our guys. Beane manages the game wearing an entire Red Sox uniform. I kid you not.

I will say this about the New York media, we don't back down when the benches clear. We were more riled up than the Yankees were on Friday night. I wish I were kidding, but I'm not. We were a few seconds away from a full-out scrap.
Lord, what we'd give for YouTube of this. It's not every day you see someone charging the mound while eating a donut.
New York Media Loses To Boston [The LoHud Yankees Blog]
(UPDATE: Here's a bunch of pictures from the game, including this one of the Boston "manager" being restrained.)