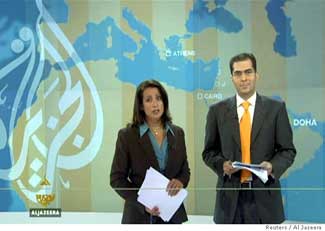 we're not gonna make a "nobody watches the nhl" joke ... we're not gonna make a "nobody watches the nhl" joke ...
Much has been made in recent years about sports leagues struggling with the decision of whether or not to give press passes to bloggers. (Our views on this are made clear right here.) But last week, the NHL actually received a request for press passes for the Stanley Cup Finals from a group even less popular than bloggers: Al-Jazeera! And the NHL said no way. SI's Michael Farber explains.
Al-Jazeera has no one at the Stanley Cup finals, its credential request having been turned down. Given the paucity of non-aligned (i.e. Southern California) newspapers from the States covering the final between the Anaheim Ducks and Ottawa Senators, you might have thought the NHL would have been happy to reach a, hmmm, really non-traditional hockey market, but, alas, that didn't happen. Why Al-Jazeera saw the news value in something that, say, the Detroit News apparently hasn't is for deeper thinkers than me.
We're not sure what the NHL's problem is with Al-Jazeera — which, we remind you, is an actual news station with real stories and real reporters — but we understand the desire of the station to cover the games: They don't get Versus there either, after all.
Al-Jazeera Shut Out Of Cup Finals [SI.com]
(And yes, we know the Finals are on NBC. Play along.)