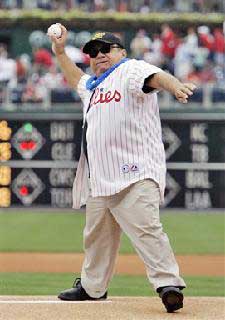 In lieu of Danny DeVito's wretched throwing out of the first pitch at the Phillies game yesterday — we suspect he had some physical disadvantages here, like, say, being able to move his arms — and the disaster that was Cincinnati mayor Mark Mallory, we are thinking a bit today about ceremonial first pitches. (We have yet to find footage of a Tommy Thompson first pitch.)
The most famous to date is probably President Bush's first pitch during the 2001 World Series, an excellent strike that showed he was firmly in command and could never possibly steer any ship off course. President Taft started the tradition, which is impressive, considering he kind of looked like Danny DeVito.
By the way, since we're out of things to say about this topic, tomorrow, in the final leg of finishing the damned book, we are watching the family of ESPN networks for 24 hours, starting at 7 a.m. So forgive us if the afternoon posts have nothing but pictures of the silent scream.
Mark Mallory Is Laughing At Louie [Gheorghe: The Blog]