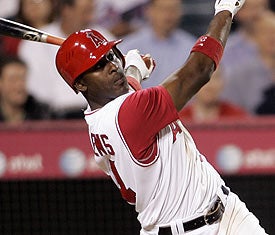 Notes from a day in baseball:
• E! Hollywood True Story: The Rise And Fall Of Rally Monkey. A fat and underworked Rally Monkey was observed trying to purchase illegal drugs in the city of Los Angeles' notorious Skid Row district on Monday, sparking a brief police chase after which he was captured without incident. The out-of-shape simian primate has been lacking work recently as the Angels, no longer in need of his services, tear through the AL West (5 1/2 game lead, including a 23-8 home record). On Monday, Gary Matthews Jr. had four hits, including his third career grand slam, and Orlando Cabrera also had four hits to lead Los Angeles over Minesota 16-3. The Angels had 23 hits overall, and at 37-22 are off to the best start in franchise history. Jered Weaver (5-3) won his fourth straight decision. So, the Ducks, the Angels and Disneyland? Gotta love the suburbs. Your Boof Bonser update: Allowed six runs and 12 hits over 5 1/3 innings, after having won his past four starts.
• Could Have Been Worse. Could Have Been Tony Danza. With Roger Clemens still not ready to take his place in the rotation, the Yankees on Monday turned to actor Danny DeVito to give them a quality start, with disastrous results. DeVito, whose resume consisted of only one ceremonial pitch ... sorry. The truth is nearly as frightful, however. New York called up Matt DeSalvo to take what was supposed to be Clemens' first start, with the White Sox going on to take a 6-4 win on Monday. DeSalvo didn't last past a three-run second inning, while Chicago's Jon Garland (4-3) pitched into the ninth. Jim Thome hit a two-run homer in the fourth.
• Get Ready, The Alan Trammell Era Has Begun. The Chicago Cubs on Tuesday rejected Major League Baseball's four-game suspension of manager Lou Piniella, opting instead to ban him from the dugout permanantly after the team's second straight win without him. Alfonso Soriano had five hits, including a three-run homer, to lead Chicago past the Brewers 7-2. Your Carlos Marmol update: Is now 1-0 after retiring two in the sixth inning in relief of starter Jason Marquis.
• Arrrrrr. Derek Lowe had a no-hitter through six, gagged up a five-run lead, then came out the winner as the Dodgers beat the Pirates 6-5. Russell Martin's fourth homer in five starts won it.
• Visulaize It, And It Will Happen. Ichiro Suzuki's go-ahead double led the Mariners over the Orioles 7-4.