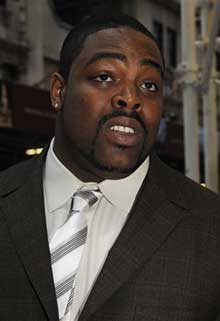 In case you were wondering, being involved in a shooting incident in Vegas — though you didn't fire the weapon and all you really did was hang out with shady people and try to get your money back after a rather ill-advised "making it rain" incident — will earn you a one-year suspension from the NFL. Serving a two-month prison term after police found a full arsenal of weaponry in your home ... that'll get you eight games. The Bears' Tank Johnson would like a fresh start.
"One day I want to be the face of the league for guys who have come through adversity and ultimately become the Man of the Year in the NFL," Johnson said in May following his release from jail. "That would be a tremendous ending to this story. That's something I'm striving for. I would love to do that."
A world in which Tank Johnson is NFL Man Of The Year ... that's a world we want to live in. By the way, Sweet Home Sports points out that Bears legend Walter Payton once had a gun incident of his own.
Tank To Get 8 Games, 6 With Good Behavior [The Bear Cave]