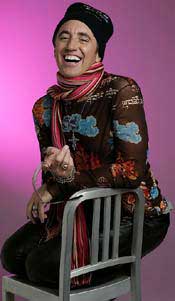 We've encouraged you to come to the Varsity Letters Reading Series in New York before, but if you come to tonight's endeavor, you'll be in for a special treat. (Depending on how you define "special.") The headlining reader is Sports Illustrated columnist/stand-up comic Rick Reilly. (Donald Evans and Rus Bradburd are on the bill as well.) Reilly is as big a name in this little world of sports-dork writing as you'll find, particularly when he dresses up like a woman. In preparation for the reading, he talked to Gelf about how ESPN steals all his stories.
I feel like I've flat-out handed them five or six Emmys. They take columns I've discovered and written—about people nobody's heard of—and do them as though they found the guy, and then they win Emmys for them. The Jake Porter column. The "picking up Butch" column. The Katrina-survivor basketball column. It's endless. And what bothers me, I guess, is that they give no credit, such as, "as first reported in Sports Illustrated." Or at least do one of their treacly, misty shots of the column. But what can you do? Sue?
Whether or not you like Reilly, it's worth stopping by. Heck, we're gonna be there, and by that point, we won't have slept in about, oh, 36 hours.
Bane Of Cheerleaders, Champion Of The Little Guys [Gelf Magazine]
Rick Reilly And His Rimshot [Deadspin]