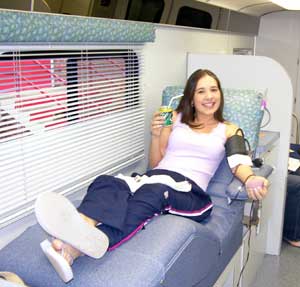 So, you're trying to promote your fledgling soccer franchise. You've got a two options: You can hold a blood drive outside the stadium pregame and give free tickets to those who give up a pint. Or ... you can just GIVE OUT FREE BEER!
Or, if you're Miami FC of the United Soccer League ... you can do both.
"It will be an experience for the entire family unlike any other found in South Florida," Miami FC boasts in the release. Hey, can't argue with that. "The place to be this weekend for pro soccer, free beer, and countless other entertainment and giveaways is Tropical Park Stadium watching our mighty Miami FC battle the Puerto Rico Islanders."
As we learned in college — sometimes we fear it's all we learned in college — when you give blood before you go drinking, you can get blasted, man, and for cheap! So the combination of free beer, lowered blood count and soccer can only brew up a combination of goodness for our fellow man. It should go smoothly, with no potential trouble at all.
Soccer, Free Beer And Intravenous Needles [The Futon Report]