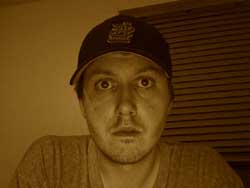 Friends, we have seen death; we have walked up to it, looked it straight in the eye and then scampered off and hid under our desk.
We come to you live, mostly, beginning our 29th consecutive hour of being awake, including 24 in a row watching the ESPN family of networks. Because we hope you'll someday buy the book — and because David Hirshey would kill us otherwise — we won't give you much of it here, and trust us, it's for the best. We've gone through an ordeal we fear we will never shake, and the tales we brought back with us will need some perspective (and professional editing) before they are ready to be released unto the wild. All can tell you is, 24 hours later, we had gained 6,500 words and lost a rather considerable piece of our soul.
We're gonna fight through the fatigue, though, and keep a regular workday today. But if we happen to, you know, fall asleep in the middle of a post, blame it on about 11 hours of John Clayton. [shiver] Please bear with us.
I've Made A Huge Mistake [Huge-Mistake.net]
(Photo taken approximately 5:17 a.m. ET)